GIFT VOUCHER GT Art Photo Agency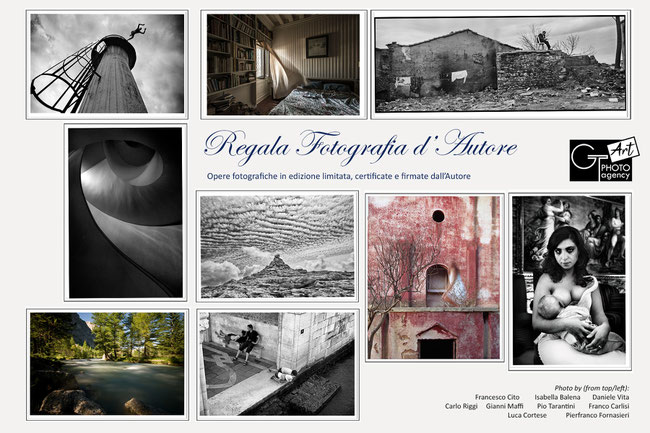 Sure about a really appreciated gift, just with a click
Our GT Art Gift Voucher can be purchased with a simple "click". Surprise very important and special people with an original and exclusive gift, with the guarantee they will receive a gift they surely like and appreciate very much.
The Gift Voucher, with its nice and elegant package, will invite the receiver to visit the GT Art Photo Gallery available in our website and to choose at the most convenient time the most relished gift. It will be enough sending us an email to order the choosen Photograph and to receive it at the indicated address via Express Courier.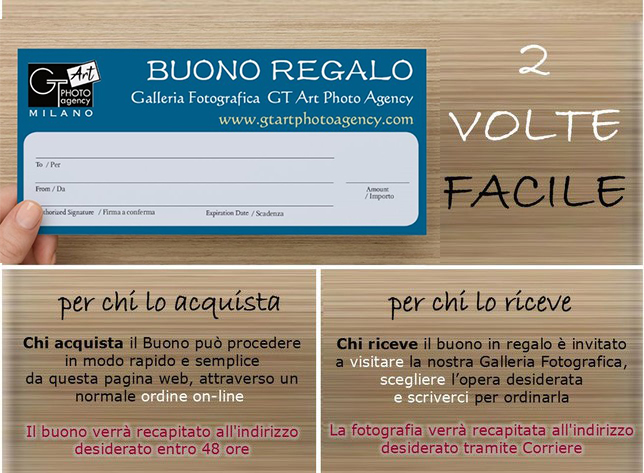 Intructions about the Gift Card usage are reported in the Gift Card too,
where it is suggested to reach our website to get more info and to read this initiative related Guidelines.
Please, note this Gift Card is partially written in Italian as far as its usage instructions are concerned.
However the Guidelines will be found in our webste soon in English version too (follow us!).
BUY NOW
GIFT VOUCHER GT Art
Prepaid Gift Voucher valid to buy Photographs available on the website www.gtartphotoagency.com, to be ordered by the expiring date indicated on the Card itself. The Gift Voucher value can totally or partially cover the Photopgraph price (according to the chosen Photograph) and cannot be converted into money in any case.
Buying this Gift Voucher you automatically accept all Conditions specified in the initiative Guidelines available in the GT Art Photo Agency website.
Gift Card delivery time 
    From 24 to 48 hours after payment
Gift Card Expiring 
   90 calendar days after the buying date
Prezzo finale, spedizione gratuita in alcuni Paesi
Spedizione gratuita nei seguenti Paesi: Belgio, Croazia, Danimarca, Finlandia, Francia, Germania, Grecia, Regno Unito, Spagna, Ungheria , Irlanda, Italia, Lussemburgo, Malta, Monaco, Paesi Bassi, Polonia, Portogallo, Romania, Svezia Mostra di più Mostra meno
disponibile / available
spedizione in 7 giorni / delivery foreseen by 7 days
PLEASE, NOTE: If the given options for our Gift Cards are not properly meeting your needs, you can ask for a customized Gift Card for a different value (not lower than Euro 250,00) just contacting us by email: info@gtartphotoagency.com.
Donating Photography is sharing the world